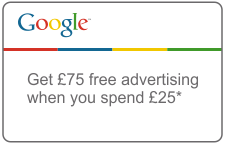 What is Google AdWords and how can it help?
You might be surprised at the number of people who are searching Google for exactly what you have to offer. Let's make sure they find you. When prospective customers search for the products or services you offer, your ad is eligible to appear on their results page - whether it be in Google Maps, or Google Search. What it costs it's up to you. Just set the daily budget you'e comfortable with, and adjust it as you see results. You pay only if somebody actually clicks on your ad to get more information.
How can I access the £75 Offer?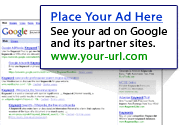 WebHostUK web hosting customers are entitled to a £75 introductory offer for Google AdWords. Please note: you'll need to spend £25 first before the £75 in additional advertising bonus kicks in. If you have a hosting account with us, you'll have access to a promotional code in your control panel that will let you access this £75 in additional advertising.
Key Benefits of AdWords
---
* This offer is valid only for customers with a legal billing address in United Kingdom. In order to activate this offer, you need to enter the promotional code through the Billing tab in your account before 3 months from the date it was issued. Promotional codes have no promotional value and entry of the promotional code serves only to begin your qualification for the associated promotional credit. To qualify for the promotional credit you must accrue advertising charges in the amount of £25 within 31 days of entering your promotional code. For example, if you enter the code on November 1, 2012 you'll have until November 30, 2012 to accrue advertising charges in the amount of £25. In all circumstances, you must enter your promotional code before 3 months from the date it was issued in order to activate this offer. Your account must be successfully billed by AdWords and remain in good standing in order to qualify for a promotional credit. The promotional credit will be applied within approximately 5 days of your account reaching the threshold for accrued advertising charges specified above, as long as you've activated your account using the promotional code and fulfilled all requirements stated in the offer. Once applied, the promotional credit will appear on the Billing summary page in your account. For the complete terms and conditions, see: https://www.google.com/adwords/coupons/terms.html.